Our Process
Each of our processes is unique, significant and value adding to your furniture.
UV Cured Resin | Flat Line Technology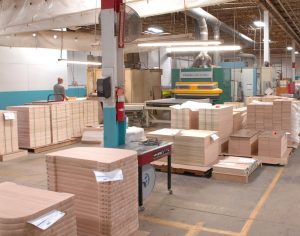 Our wood furniture is finished using Moduform's industry leading UV cured resin, applied with flat line roll coating technology. This unique sealer and top coat recipe provides a rich looking, extremely durable finish that is permanently bonded to the wood. With our process, there are no solvents to evaporate, no environmental pollutants, no loss of coating thickness, and no loss of volume, all of the material is simply rolled onto the part and dried under high-intensity UV lamps.
The environmental benefits alone make the Moduform process second to none. The superior physical properties only add to the exceptional value. It's resistant against ever day abrasion from books, papers, and writing instruments. It repels most food and beverage stains, prevents discoloration from strong light and temperature variation and is tough enough to withstand bleach-based cleaners and heavy strength disinfectants…even nail polish remover!
Spray Line Wood Finish
Before we top coat wood components with our UV cured resin, all products specified for one of our eight (8) standard finishes or custom color undergo a computer controlled staining operation. All Moduform finishes are specially formulated and water-based so that they are environmentally friendly, true to color and consistent. Material is precisely calculated and any over-spray is captured and re-used. The consistency of the color is unmatched and the quality of the product is second to none.
Here's a little video that shows how our spray-stain process works: