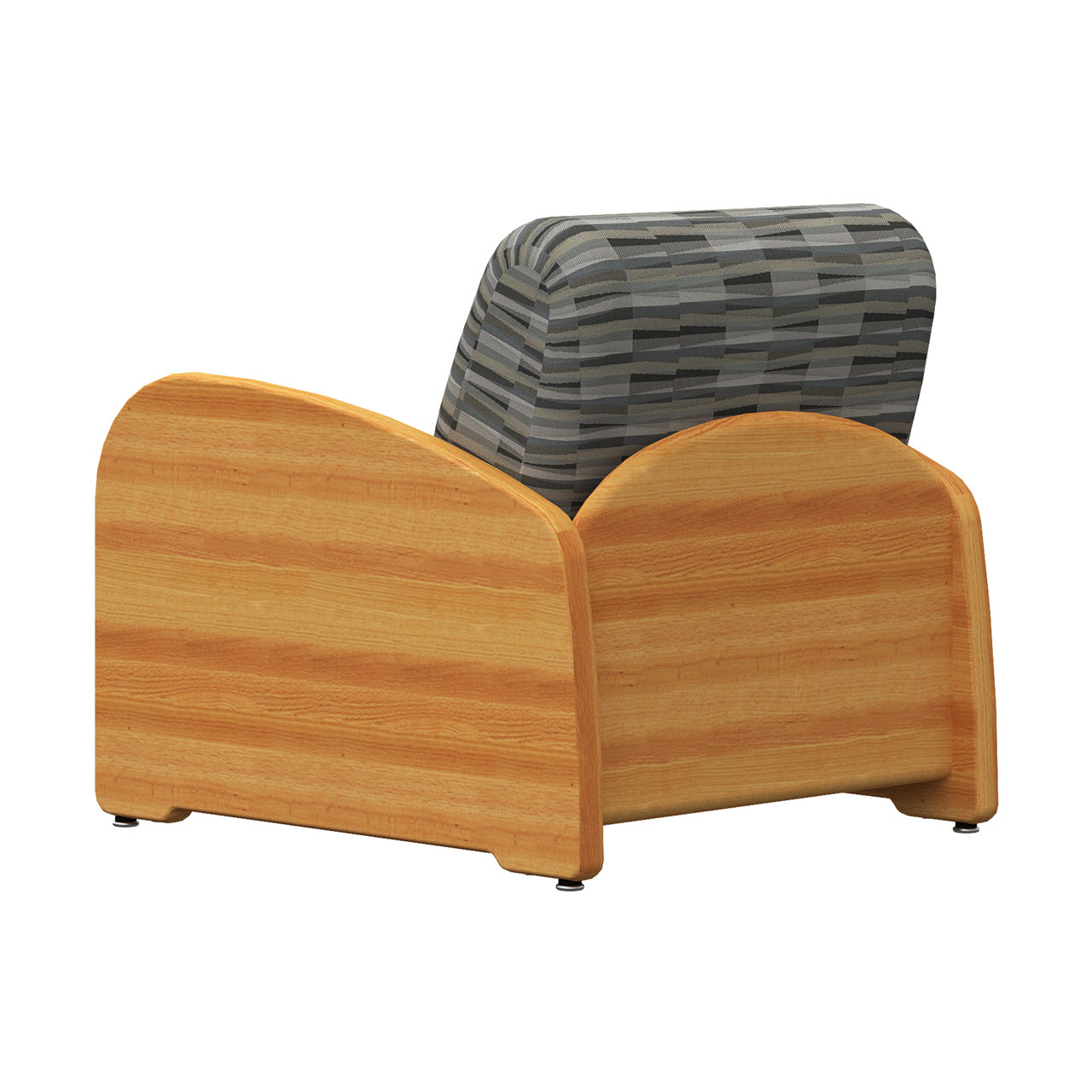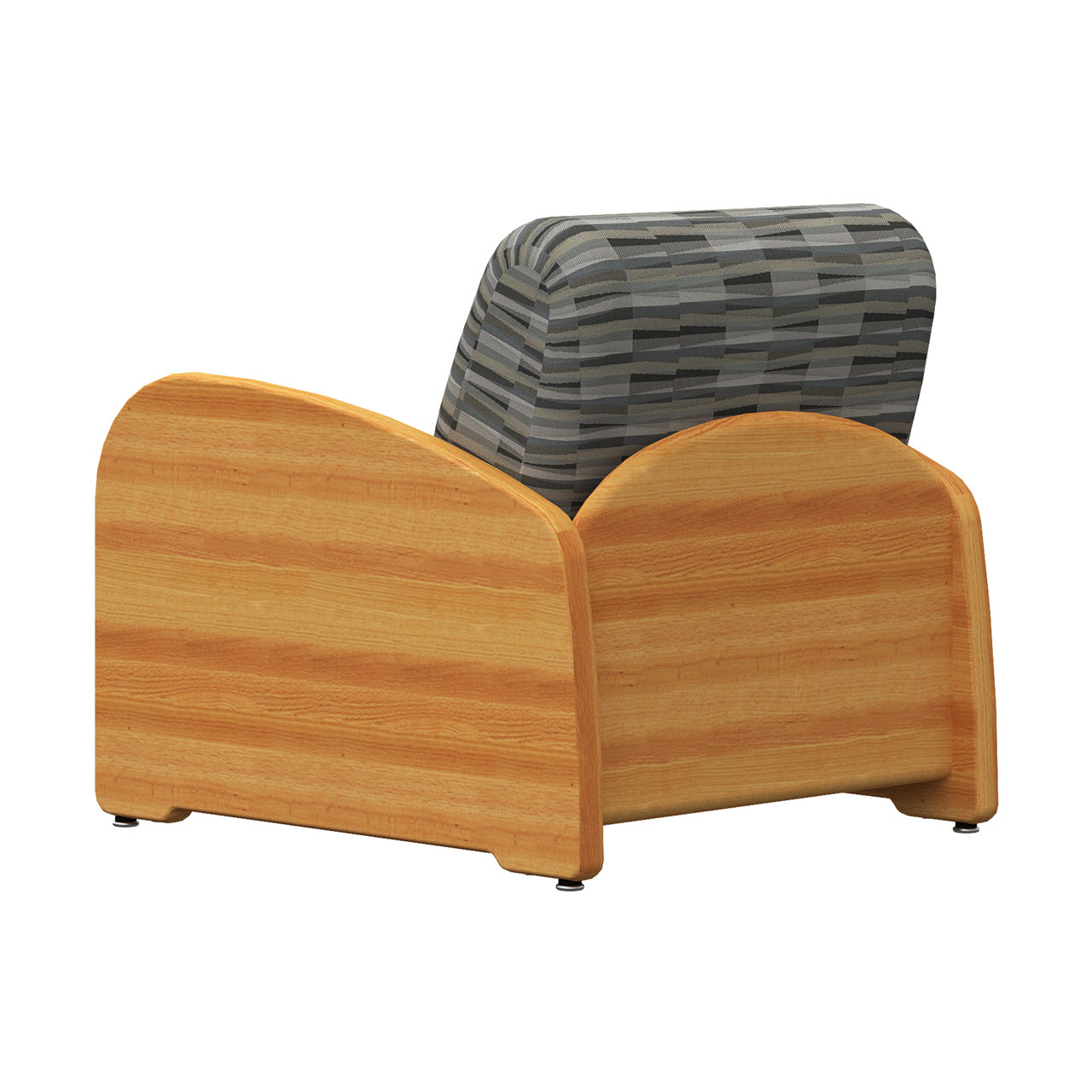 Wood Finishes
| | | |
| --- | --- | --- |
| Light Oak | Cherry | Oak | Light Cherry | Oak |
| | | |
| Stone | Oak | Dark Mocha | Oak | Walnut | Oak |
Description
ModuEsque is the industry standard for solid oak butcher block sided lounge furniture. Available with ModuForm's unique rotationally molded cushions or an almost unlimited variety of fabrics and other coated materials.
Rotationally molded vinyl is one piece, resistant to fluids, puncture, picking, and harsh cleaning chemicals. It is homogeneous in color, more than 20 times thicker than traditional coverings and will withstand the harshest of environments. Cushions are filled with a two-part flexible polyurethane foam that forms and bonds to the cushions as it cures. This process generates the most appropriate cushion sets for intensive use seating.
If fabric or coated materials are more appropriate, we mold our flexible, high-density polyurethane foam which encases a steel frame that provides a bolting system that makes the cushions non-removable without commercial-grade electric powered tools.
All butcher block parts are either repairable or replaceable. All components bolt together with high-torque steel-on-steel bolts and threaded inserts. Each oak piece is finished using our specially formulated ModuV, a revolutionary ultraviolet (UV) coating. This topcoat will withstand bodily fluids, scratches, heat and UV light as its non-reactive chemistry and other distinctive characteristics enable it to hold up to the rigors and unpredictable circumstances that arise in treatment facilities. Disinfect with heavy strength detergents, bleach or steam to keep your facility clean against harmful bacteria and bloodborne pathogens.
ModuForm has been designing and manufacturing furniture that meets stringent standards since our inception in 1976. When looking to provide an inviting, calm and safe environment, ModuForm's ModuEsque will reflect a level of compassion, safety and vigilance for patient welfare.
ModuEsque | Lounge Chair

Model:
810-01-1-F
with Upholstered Cushions
34″d x 27.5″w x 32″h
Seat Height: 16″
Arm Height: 20.5″
Features:
Side Panels: 1-9/16″ Thick Solid Northern Grown Red Oak Butcher Block with Bullnosed Edges for Sustained Durability.
Front Rail & Back: Solid Northern Grown Red Oak Butcher Block.
Assembly: Sides, Front Rail and Back Incorporate Extra Large, Hardwood Spiral Grooved Dowels, Steel Threaded Inserts and Bolt Together Using 90° Steel Brackets for Unmatched Construction.
All Wood Components are Finished with Our Specially Formulated ModuV Resin Inside and Out.
ModuV is the Most Durable and Environmentally Friendly Finish Available with 100% of the Sealer & Top-Coat Pressure Applied to the Part.
We apply ModuV via a Flat-Line Roll-Coating System that Eliminates Harmful Volatile Organic Compounds (VOCs).
ModuV Resin is Impervious to Discoloration, Most Food and Beverage Stains, Abrasions from Paper, Books, and Writing Instruments.
ModuV Resin is Chemically Inert – It Will Stand Tough Against Harsh Cleaning Solvents, Commercial Detergents and Even Nail Polish Remover.
Cushions: Fully Reversible and Replaceable.
Cushion Fabrication: One Piece Molded Foam for Maximum Strength and Unparalleled Longevity.
Cushion Cover: Choose from a Variety of Textiles.
Cushion Core: Two-Part Ultimate High-Density Polyurethane Foam for Comfort, Safety and Longevity.
Concealed and Secure Steel Fastening System to Bolt Cushions to Chair Frame.
Glides: Heavy-Duty, Chrome Plated Adjustable Floor Leveling.
Fire Retardant & Self-Extinguishing for Safety.
All Cushions and Wood Parts are Removable and Replaceable with Tools.
Standard Finish is Natural Oak.
Available in Standard ModuForm Wood Finishes.
18″ Seat Height Available.
Moisture Barrier.
CAL TB133.
Standard ModuForm Vinyl Color Options.
Standard ModuForm Finish Options.