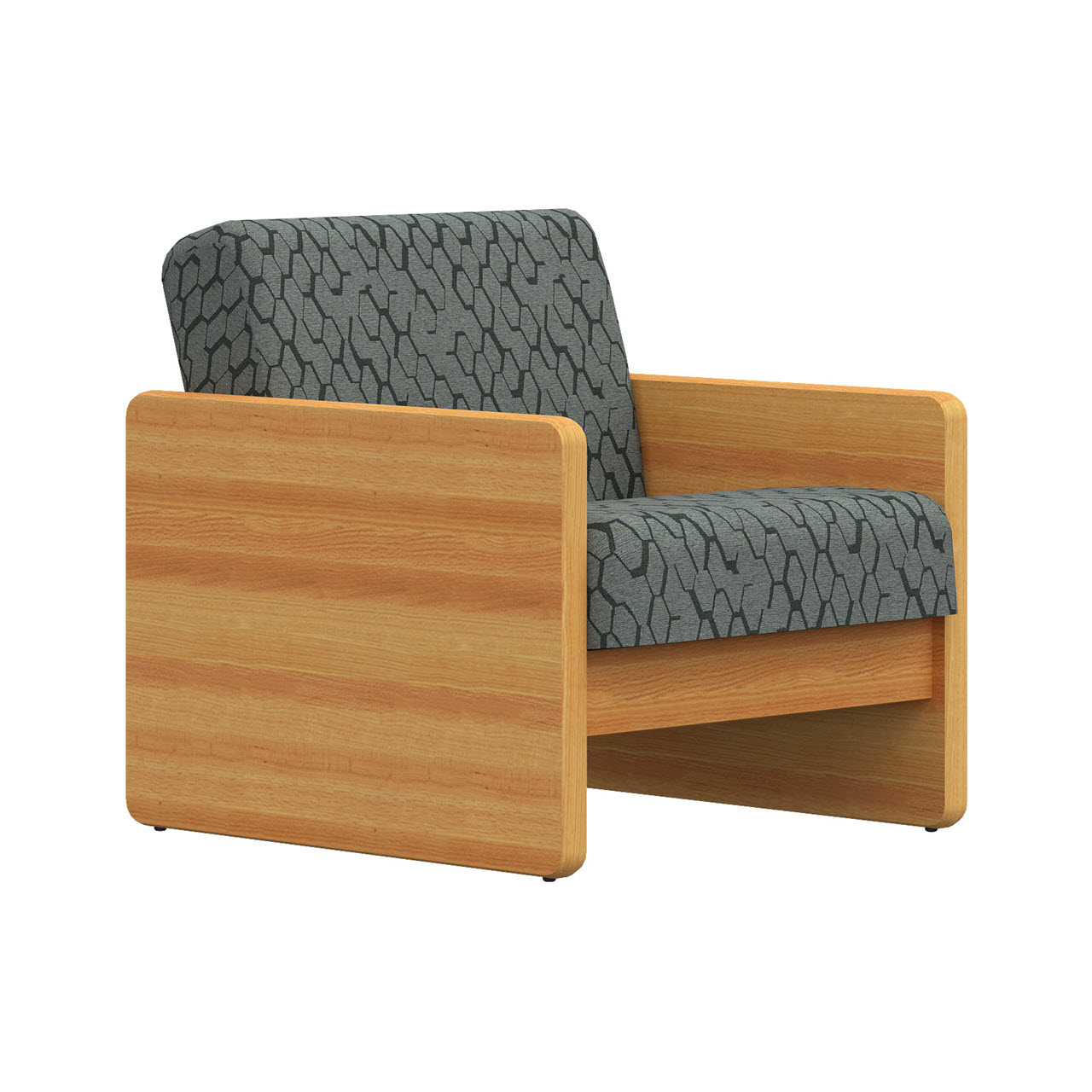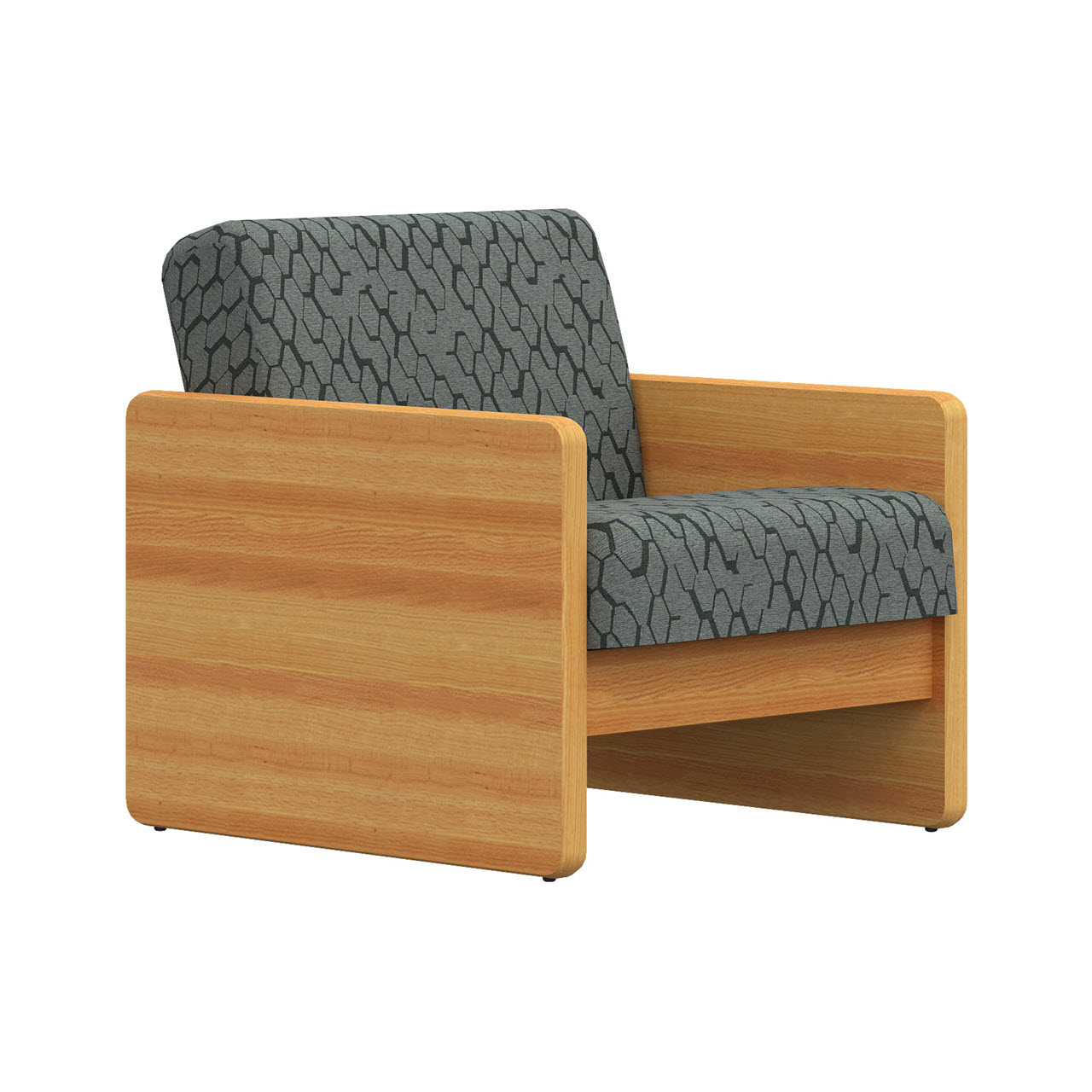 Wood Finishes
Light Oak
Natural Maple
Cherry
Light Cherry
Stone
Dark Mocha
Walnut
Description
ModuForm's Rounder features hardwood, "puzzle-cut" upholstery framing with sinuous springs and tie-rods for maximum comfort. Secured to solid red oak, butcher block sides, it seamlessly merges durability with aesthetic appeal.
All butcher block parts are finished using our specially formulated ModuV, a revolutionary ultraviolet (UV) coating. This topcoat will withstand fluids, scratches, heat and UV light as its non-reactive chemistry and other distinctive characteristics enable it to hold up to the rigors and variable circumstances that arise in unpredictable spaces. Disinfect with heavy strength detergents, bleach or steam to keep your facility clean against harmful bacteria and bloodborne pathogens.
With replaceable cushion sets, unmatched comfort and the unique features of ModuV, Rounder will deliver warm and inviting lounging spaces for years to come.
Rounder | Lounge Chair

Model:
RS01
with Upholstered Cushions
33″d x 27″w x 28.5″h
Seat Height: 16″
Arm Height: 21.5″
Features:
Side Panels: 1-9/16″ Thick Solid Northern Grown Red Oak Butcher Block with Bullnosed Edges for Sustained Durability.
Front Rail & Back: Solid Northern Grown Red Oak Butcher Block.
Assembly: Sides, Front Rail and Back Incorporate Extra Large, Hardwood Spiral Grooved Dowels, 90° Steel Brackets and Counter Sunk Toe Bored High-Torque Screws for Robust Construction.
All Wood Components are Finished with Our Specially Formulated ModuV Resin Inside and Out.
ModuV is the Most Durable and Environmentally Friendly Finish Available with 100% of the Sealer & Top-Coat Pressure Applied to the Part.
We apply ModuV via a Flat-Line Roll-Coating System that Eliminates Harmful Volatile Organic Compounds (VOCs).
ModuV Resin is Impervious to Discoloration, Most Food and Beverage Stains, Abrasions from Paper, Books, and Writing Instruments.
ModuV Resin is Chemically Inert – It Will Stand Tough Against Harsh Cleaning Solvents, Commercial Detergents and Even Nail Polish Remover.
Cushions: Fully Replaceable.
Cushion Fabrication: Hardwood Plywood, "Puzzle Cut" into Mortise & Tenon Joints with Steel Sinuous Wire Springs Tied Together and Covered with Commercial Grade Non-Woven Cover for Superb Construction.
Cushion Cover: Choose from a Variety of Textiles.
Cushion Foam: High-Density Laminated Polyurethane Foam Wrapped with Polyfiber for Superior Comfort and Longevity.
Glides: High-Impact, Tacked in Place.
Fire Retardant & Self-Extinguishing for Safety with Barrier.
Standard Finish is Natural Oak.
Available in Standard ModuForm Wood Finishes.
Removable & Replaceable Fabric Covers.
Moisture Barrier.
CAL TB133.
Standard ModuForm Vinyl Color Options.
Standard ModuForm Finish Options.